Jovem corredor morre atropelado em prova ciclista
Comentários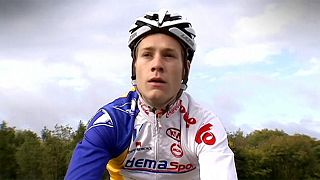 A tragédia bateu à porta do ciclismo belga, com a morte do jovem corredor Antoine Demoitié, durante a prova Gent-Wevelgem.
Demoitié tinha 25 anos e corria pela equipa Wanty-Groupe Gobert.
Durante a prova, perto da localidade de Sainte-Marie-Chapelle, a 115 quilómetros da chegada, Demoitié envolveu-se numa queda coletiva e foi depois atropelado por uma das motos da televisão. Acabaria por morrer no hospital em Lille, em França.
O ponto mais alto da curta carreira de Demoitié foi a vitória na edição de 2014 do Tour de Finistère.
Such tragic news. RIP Antoine Demoitie. My thoughts and condolences are with your family, friends and teammates.

— Mark Cavendish (@MarkCavendish) March 28, 2016
Horrible news. Deeply saddened. Makes you realise how vulnerable we are. All the strength to his family and friends. pic.twitter.com/oMkpR892ck

— Bauke Mollema (@BaukeMollema) March 28, 2016
Esta morte levou vários ciclistas a pedir regras mais apertadas para as motos que acompanham as corridas.
Mi mas profundo y sentido pesame para los familiares y amigos de Antoine https://t.co/pWhvVsk5La necesita un control de motos en carrera YA!

— Alberto Contador (@albertocontador) March 28, 2016
Passing the peloton on downhills and during crucial moments in a race, when speed is high and fight for position frantic is just not safe

— Dan Martin (@DanMartin86) March 28, 2016