Papa Francisco leva esperança a centenas de milhares de fiéis no Uganda
Comentários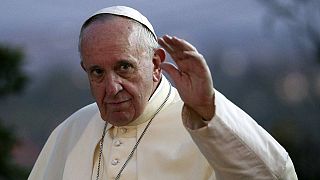 O papa Francisco prosseguiu, este sábado, a sua visita ao Uganda. No santuário de Namugongo, perto da capital, Kampala, celebrou missa para algumas centenas de milhares de fiéis. Católicos do Sudão do Sul, país que está em guerra civil, viajaram 12 horas de autocarro para assistir à celebração.
#Pope will arrive soon to celebrate Mass at the Martyrs of Namugongo shrine. Stay tuned for more! #PopeInUgandapic.twitter.com/P5LMuWCvxH

— Catholic News Agency (@cnalive) 28 novembro 2015
O Sumo Pontífice da Igreja Católica prestou homenagem aos 45 mártires católicos e anglicanos queimados vivos, no século XIX, por não renunciarem à sua fé.
Honor your martyrs by putting faith into action, pope tells Ugandans https://t.co/6ksaGKua6Upic.twitter.com/nuco8ubgrB

— Catholic News Svc (@CatholicNewsSvc) November 28, 2015
Durante a tarde, o papa visitou Kololo, também na capital, local onde se reuniu com cerca de 150 mil jovens ugandeses.
NEWPHOTOALBUM: #PopeFrancis in #Ugandahttps://t.co/SBNlY48wqj (CNS/Paul Haring) #PopeinAfrica#PopeInUgandapic.twitter.com/lDuYWMjdcy

— Catholic News Svc (@CatholicNewsSvc) November 28, 2015
Esta é a segunda de três paragens na sua primeira visita ao continente africano enquanto Papa. A próxima é Bangui, capital da República Centro-Africana. Uma visita que está envolta em apertadas medidas de segurança por ser a mais perigosa. O país vive, desde 2013, um conflito entre milícias cristãs e muçulmanas que já fez centenas de vítimas mortais e cerca de um milhão de deslocados.