Coreia do Norte: Trump reforça presença militar norte americana na península coreana
Comentários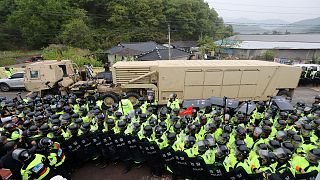 Camiões militares norte-americanos que transportam as primeiras peças do sistema de defesa antimísseis THAAD chagaram à Coreia do Sul na madrugada de terça-feira.
The US/Pentagon deployment of THAAD to South Korea is not going down easily – lots of protest and resistance. https://t.co/B4rW5uaeLdpic.twitter.com/HZItvrrUzr

— Tim Shorrock (@TimothyS) April 26, 2017
O escudo é suposto interceptar e destruir os mísseis balísticos norte-coreanos.
A montagem do sistema de defesa antimíssil norte-americano, ainda este ano, desagradou à Coreia do Norte, mas também a China e a Rússia.
#BREAKING: US Nuclear Submarine, USS Michigan, has arrived in South Korea. The nuclear deterrent is very much in play pic.twitter.com/u42EWNbeNt

— Jacob Wohl (@JacobAWohl) April 25, 2017
Em demonstração de força, Washington enviou para a península coreana o submarino nuclear USS Michigan e o porta-aviões nuclear Carl Vinson, após o Presidente Trump ter prometido colocar na região uma "armada muito poderosa."
Os norte-americanos vão participar em exercícios militares conjuntos com a Coreia do Sul, que Seul afirma serem para conter as provocações norte coreanas.
Foi neste contexto de grande tensão que Pyongyang celebrou, terça-feira, a formação do exército da Coreia do Norte.
North Korea says it needs a massive army to stand up to "endless war provocations" from the U.S. https://t.co/CaqiFAH27Xpic.twitter.com/0GVAfQNnVS

— Newsweek (@Newsweek) April 25, 2017
Após muitas especulações sobre a possibilidade de o regime de Kim Jong-Un poder realizar um sexto lançamento de teste nuclear, ou de mísseis, para marcar o 85º aniversário do exército, a Coreia do Norte realizou exercícios de artilharia com fogo real de grande dimensão.