PIB norte-americano cresce menos do previsto no segundo trimestre
Comentários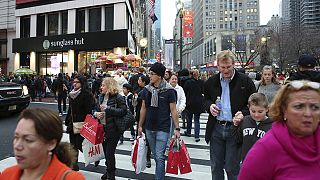 Revisão ligeiramente em baixa do crescimento económico dos Estados Unidos no segundo trimestre. Em termos anuais, o PIB norte-americano cresceu 1,1%, uma décima menos do que a primeira estimativa do Departamento do Comércio.
#USA#GDP Real gross domestic product increased at an annual rate of 1.1 percent in the second quarter of 2016. pic.twitter.com/dCelicZfk8

— Don Bolson (@DonBolson1) 26 de agosto de 2016
Os dados dos inventários e do investimento empresarial revelaram-se inferiores ao previsto. Já o consumo, que representa dois terços do PIB, cresceu 4,4%, duas décimas mais do que a primeira previsão.
Alguns membros da FED e analistas estimam que a economia deverá acelerar no terceiro trimestre e crescer 3,4%, tendo em conta os dados do investimento empresarial e do comércio externo. O mercado do trabalho deverá continuar a impulsionar o consumo.