Alemanha: Inflação utrapassa meta dos BCE. Desemprego contínua em queda
Comentários
De
Euronews
com
ft, reuters, markit, bloomberg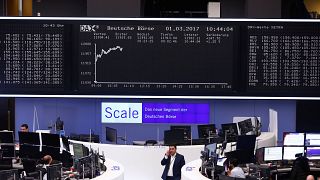 A inflação na Alemanha ultrapassou as metas do Banco Central Europeu pela primeira vez em mais de quatro anos, alimentando os argumentos de Berlim para que o BCE reduza os estímulos e suba as taxas de juro de referência em ano de eleições legislativas
Em termos anuais, os preços subiram em fevereiro 2,2% na Alemanha, acima da meta de uma inflação ligeiramente abaixo dos 2% desejada pelo BCE. É o valor mais alto de inflação desde agosto de 2012.
Germany's inflation rate has accelerated to 2.2% – the highest since the summer of the eurozone debt crisis https://t.co/gnPfXarBLUpic.twitter.com/eHcBukWwIT

— fastFT (@fastFT) March 1, 2017
O desemprego também diminuiu mais do que o esperado em fevereiro no motor da economia europeia e a taxa de desemprego manteve-se no valor mais baixo desde a reunificação alemã, em 1990.
Germany's unemployment continues to fall as confidence in the economy improves https://t.co/6X11tOuiXipic.twitter.com/qMEevzCb8x

— Bloomberg (@business) March 1, 2017
Comparando com o mês anterior, em valores ajustados, menos 14 mil pessoas estavam sem emprego no final de fevereiro, colocando o número total de desempregados em 2,59 milhões. A taxa de desemprego continua nos 5,9%.