Zona Euro: Economia robusta no início do segundo trimestre
Comentários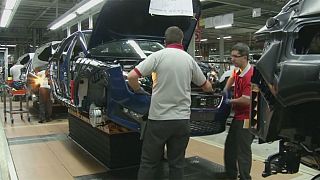 A economia da zona euro inicia o segundo trimestre de forma robusta. A atividade industrial e dos serviços atinge máximos de seis anos.
O índice dos gestores de compras da Markit atingiu, em abril, os 56,7 pontos, contra 56,4 pontos em março.
Flash #Eurozone#PMI Composite Output Index at 72-month high of 56.7 in April (56.4 in March). https://t.co/hMy3d7H84Npic.twitter.com/T5DiJQJFhp

— Markit Economics (@MarkitEconomics) 21 de abril de 2017
O nível de encomendas manteve-se forte. Neste contexto, os empresários preveem recrutar. O índice de criação de emprego está em máximos de quase uma década.
Na Alemanha, o setor dos serviços abrandou o ritmo de crescimento, mas no setor industrial este mantém-se forte.
#Germany saw business activity growth dip in April but flash #PMI remains consistent with c0.6% q/q GDPhttps://t.co/ms2UbFlHJgpic.twitter.com/fVGsroCGbg

— Chris Williamson (@WilliamsonChris) 21 de abril de 2017
Já no caso de França, a incerteza em torno das eleições presidenciais não penalizou o setor privado que, em abril, regista o melhor desempenho em seis anos.
Business activity is surging in #France. Flash #PMI near 6-year high in April signals 0.6-7% q/q GDP growth https://t.co/o8MLcLhtnYpic.twitter.com/RVT6if8k1t

— Chris Williamson (@WilliamsonChris) 21 de abril de 2017
No conjunto da zona euro, a Markit estima que o PIB cresça 0,7% no segundo trimestre. Dados que serão certamente bem acolhidos pelo Banco Central Europeu.