Samsung lança sistema de pagamento eletrónico na China
Comentários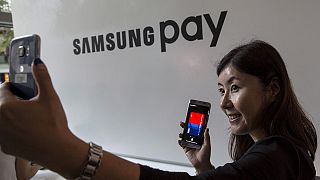 Aposta arriscada da Samsung na China.
O fabricante sul-coreano de telemóveis lança o sistema de pagamento eletrónico na China, através da parceria com a UnionPay. O sistema permite o pagamento com cartões de nove bancos chineses.
Samsung Pay launches in China and Singapore https://t.co/WcYxCuRAc8pic.twitter.com/6aOpJy5zsO

— Mashable (@mashable) 29 de março de 2016
A Samsung, com uma quota de mercado de 7% na China, segue as pegadas da rival Apple, que lançou o mesmo serviço há um mês.
Here we come, China! #SamsungPay is available starting today. #GalaxyS6edgeplus#Note5#GalaxyS7 and #GalaxyS7edgepic.twitter.com/ZwCEuA0rIr

— Samsung Pay (@SamsungPay) 29 de março de 2016
Mas o grande concorrente é chinês. Trata-se do serviço Alipay do gigante Alibaba que, segundo o gabinete de pesquisa BigData Research, conta com 400 milhões de utentes e controla 70% dos pagamentos eletrónicos móveis feitos no mercado chinês.
Surge em segundo lugar a chinesa Tecent, com 17% do mercado.
Na China, em 2015, as transações com o sistema de pagamento eletrónico móvel atingiram 9,310 mil milhões de yuans, o equivalente a 1,280 mil milhões de euros. Face ao ano precedente subiram 57%, de acordo com os dados BigData Research.