Kerry incita bancos europeus a retomarem negócios com o Irão
Comentários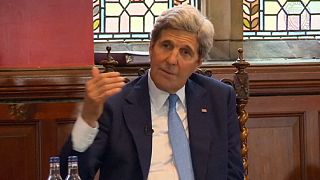 O secretário de Estado norte-americano disse, esta quinta-feira, aos patrões dos maiores bancos europeus que não têm nada a temer se quiserem retomar "negócios legítimos" com o Irão.
Desde o levantamento das sanções, os bancos europeus têm estado reticentes em retomar os negócios com a república islâmica porque alguns foram no passado punidos por terem violado as restrições impostas pela comunidade internacional.
Secretary JohnKerry</a> and British FM <a href="https://twitter.com/PHammondMP">PHammondMP meet with European bank leaders: https://t.co/Mjt32kgU3epic.twitter.com/AwXsIrO0MN

— Department of State (@StateDept) May 12, 2016
Num encontro, em Londres, John Kerry quis "deixar claro que os negócios legítimos (…) estão abertos aos bancos desde que procedam às diligências habituais e saibam com quem é que estão a lidar", afirmou.
Na reunião estiveram presentes, entre outros, António Simões, presidente-executivo do HSBC e os seus homólogos dos Deutsche Bank e do Crédit Suisse.