Índia: Cinco detidos por incêndio e explosão no templo Puttingal
Comentários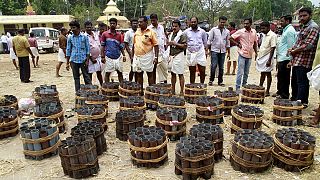 Pelo menos cinco pessoas foram detidas por causa da explosão de material pirotécnico num templo no sul da Índia que provocou mais de cem mortos e cerca de 300 feridos. A informação foi avançada pela polícia local.
Este vídeo mostra o momento exato das explosões.
As autoridades explicam que as detenções foram feitas por "violação da lei", uma vez que os indivíduos não tinham autorização para manipular o material pirotécnico. Recorde-se que a forte explosão foi seguida de um incêndio no templo Puttingal, no distrito de Kollah.
Um vídeo amador mostra o momento exato das explosões.
Este acidente poderia ter sido ainda mais trágico, uma vez que na celebração do novo ano hindu estavam entre dez mil e 15 mil pessoas.
PM Narendra Modi visits kollan distt Hospital to meet the victims of fire in Puttingal Temple. #PuttingalTempleFirepic.twitter.com/qeJqFcUDvC

— Youngster Media (@YoungsterMedia1) 11 de abril de 2016
Entretanto, o primeiro-ministro da Índia, Narendra Modi, deslocou-se à região e visitou os hospitais onde estão os feridos. Para além de anunciar o valor das indemnizações às vítimas, Modi garantiu ainda a transferência para Mumbai dos feridos mais graves.