Osborne avisa que eventual "Brexit" empobrece país e britânicos
Comentários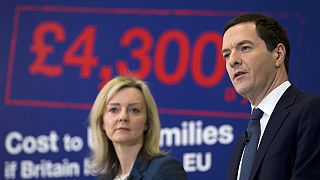 A saída do Reino Unido da União Europeia pode empobrecer o país e os britânicos. O alerta é do ministro britânico das Finanças, George Osborne, que apresentou o relatório sobre os custos e vantagens da permanência na UE.
Britain will be permanently poorer if it votes to Leave the EU on June
23. My article for thetimes</a> <a href="https://t.co/gc2zhk8EWz">https://t.co/gc2zhk8EWz</a></p>&mdash; George Osborne (George_Osborne) April 18, 2016
Em caso de "Brexit", o governo estima que economia britânica poderá encolher 6% até 2030. Cada família poderá perder por ano cerca de 4300 libras, o equivalente a 5400 euros.
Londres prevê uma queda do comércio e do investimento. No final, o executivo irá ver as receitas fiscais amputadas de 36 mil milhões de libras, cerca de 45 mil milhões de euros.
Here are the top line numbers in hmtreasury</a> Brexit report - massive fiscal and economic cost in 2030, it claims: <a href="https://t.co/rRQNIvvEfs">pic.twitter.com/rRQNIvvEfs</a></p>&mdash; Faisal Islam (faisalislam) 18 de abril de 2016
O relatório foi muito criticado pelos eurocéticos, que acusam o governo de conspiração e manipulação pelo medo.
A dois meses do referendo, as duas fações estão quase empatadas.