Lucros da Rosneft afundam 75% no primeiro trimestre
Comentários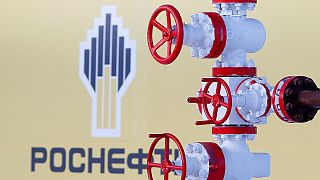 O gigante petrolífero russo Rosneft viu afundar os lucros líquidos no primeiro trimestre. A queda é de 75% face ao mesmo período do ano passado.
Russia's #Rosneft reports first quarter 2016 net income of RUB 14 billion, compared to RUB 56 billion in the first quarter of 2015 (-75%).

— TopOilNews (@TopOilNews) 8 de junho de 2016
Entre janeiro e março, os preços do barril de petróleo atingiram mínimos de 13 anos. Os lucros líquidos da companhia ascenderam a 14 mil milhões de rublos, o equivalente a 192 milhões de euros.
As receitas brutas caíram 14% e as vendas recuaram 21%. Mesmo assim, a empresa impulsionou o investimento, conseguiu manter um fluxo de tesouraria e reduziu a dívida em 45% para o equivalente a 21 mil milhões de euros.