Meranti perde força antes de atingir a China
Comentários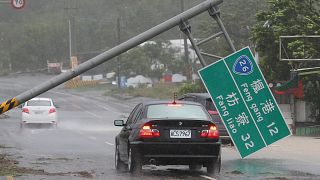 O tufão Meranti perdeu força após a passagem por Taiwan onde provocou pelo menos um morto e 38 feridos.
#Typhoon#Meranti made landfall at 3:05 a.m. in Fujian Province with gales up to 48 meters per second pic.twitter.com/yEiqMxrgw1

— China Xinhua News (@XHNews) September 15, 2016
Esta quinta-feira atingiu o sudeste da China com rajadas de vento superiores a 100 quilómetros por hora. Para já não há registo de vítimas mortais.
Dezenas de voos foram cancelados e, na província de Fujian, milhares de pessoas ficaram sem eletricidade.
Os serviços de proteção civil não têm tido mãos a medir.
Como medida de prevenção, milhares de casas foram evacuadas e os reatores nucleares em Hengchun, no sul da China, desligados.
A passagem do Meranti pela China coincide com as celebrações do Festival da Lua. Um evento que parece não ter deixado indiferente o próprio tufão.