Ali bin Al Hussein é o mais recente nome para tentar derrubar Sepp Blatter
Comentários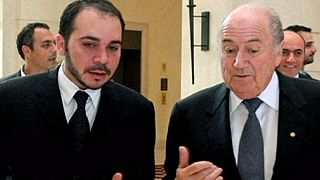 Ali bin Al Hussein é o terceiro candidato à presidência da FIFA. O presidente da Federação de Futebol da Jordânia, vice-presidente da FIFA desde 2011, junta-se a Sepp Blatter e Jérôme Champagne nas eleições de 29 de maio.
Aos 39 anos de idade, o jordano apresenta-se a escrutínio porque considera que o futebol merece dirigentes de classe mundial, unidos num modelo de ética, transparência e boa governação.
The world's game deserves a world-class governing body — a service organisation and a model of ethics, transparency and good governance.

— Ali Bin Al Hussein (@AliBinAlHussein) 6 janeiro 2015
A candidatura parece agradar a Michel Platini, presidente da UEFA e querido inimigo de Sepp Blatter, que afirmou conhecer bem o novo candidato e considerou que este tinha "legitimidade total para ocupar as maiores responsabilidades".
Ainda assim, é pouco provável que quer Al Hussein, quer Champagne consigam destronar o suíço, que se encontra no cargo desde 1978 e não parece disposto a abandonar a liderança do futebol mundial tão cedo.