Volkswagen adia apresentação de contas e assembleia de acionistas
Comentários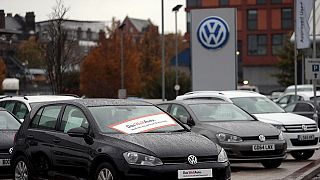 A Volkswagen adiou a apresentação de resultados e a assembleia geral dos acionistas devido ao escândalo de manipulação dos testes de emissões poluentes.
A apresentação dos resultados estava prevista para dia 10 de fevereiro e a assembleia de acionistas para 21 de abril.
As novas datas serão comunicadas em breve. Por agora, a direção tenta calcular o impacto financeiro do escândalo e responder às questões ainda sem resposta.
Volkswagen will delay reporting its annual earnings because of uncertainty about the cost of its emissions scandal https://t.co/pfheYkJi9c

— The New York Times (@nytimes) 5 fevereiro 2016
O grupo automóvel alemão esperava em 2015 resultados operativos semelhantes do ano precedente, mas excluindo os efeitos da fraude nos motores, que abrange até 11 milhões de veículos.
Devido ao escândalo, as vendas estão a recuar e as queixas judiciais acumulam-se.
Sales of Volkswagen cars fall 14% following emissions scandal https://t.co/8wwKdbkDIZ

— The Guardian (@guardian) 4 fevereiro 2016
JUST IN: Volkswagen sales plunged 15% in U.S. in January, after emissions scandal https://t.co/DE9jNfBDMGpic.twitter.com/2×1hZ92IWS

— Bloomberg Business (@business) 2 fevereiro 2016
Em Portugal, os clientes do modelo Amarok com motor 2.0 litros a gasóleo serão os primeiros a serem convocados às oficinas.