EUA: Donald Trump critica acordo Cruz-Kasich
Comentários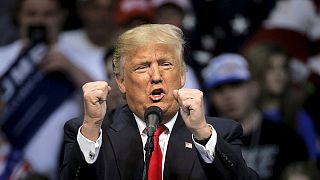 Donald Trump criticou o acordo entre o ultraconservador Ted Cruz e o moderado John Kasich.
Lyin' Ted Cruz and 1 for 38 Kasich are unable to beat me on their own so they have to team up (collusion) in a two on one. Shows weakness!

— Donald J. Trump (@realDonaldTrump) April 25, 2016
Os dois decidiram unir esforços para evitar que o milionário seja o escolhido, pelo Partido Republicano, para disputar as eleições presidenciais dos Estados Unidos da América a 8 de novembro.
"Por minha causa, as pessoas veem que o sistema das primárias dos republicanos está quebrado, é uma fraude. Quando dois candidatos que não têm nenhum caminho rumo à vitória e estão matematicamente fora, devem desistir para que todos nós, unidos, possamos lutar contra a bandida da Hillary Clinton. Vencê-la, realmente, vencê-la em grande", diz Trump.
Para alguns analistas políticos, o acordo Cruz-Kasich é tardio e pode, agora, ter efeito contrário ao esperado.
O diretor da Franklin & Marshall College Poll, Terry Madonna, diz entender "a tática que está por trás disso mas penso que apenas alimenta a narrativa de Trump de que isto é apenas o sistema, os líderes do partido, pessoas que não podem ser nomeadas no primeiro escrutínio. Que estão apenas atentar travá-lo."
Os Republicanos vão hoje às urnas nos estados da Pensilvânia, Connecticut, Rhode Island, Delaware e Maryland. Nesta super terça-feira estão em jogo 172 delegados.
As sondagens dão a vitória a Donald Trump que já conseguiu o apoio de 845 delegados, Ted Cruz tem 559 e John Kasich 147.