PIB alemão progrediu 0,7% no primeiro trimestre
Comentários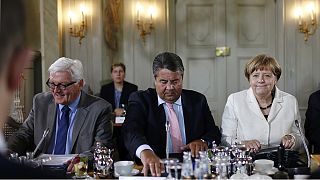 A economia alemã começou 2016 com o maior crescimento trimestral em dois anos. Entre janeiro e março, o PIB alemão progrediu 0,7%, contra 0,3% no final de 2015.
Em termos anuais, a progressão é de 1,6%, um valor superior ao previsto.
Germany records strongest GDP growth for two years, but remains in deflation – City A.M. https://t.co/P3MIEEZ9ET

— Walton Schwallie (@allgermany) 13 de maio de 2016
O PIB foi impulsionada pelo consumo privado, o investimento no setor da construção e os gastos públicos com o acolhimento de refugiados. Já o comércio externo recuou.
Q1 #GermanGDP growth of 0.7% q/q as gains in consumer spending (0.4%), govt spending (0.5%) & investment (1.8%). Construction invest +2.3%

— Howard Archer (@HowardArcherUK) 24 de maio de 2016
German gov't to spend 93.6 billion euros on refugees by end 2020 https://t.co/4VubQDrb5G That's what I call an injection to spur the GDP!

— dsjkvf (@dsjkvf) 14 de maio de 2016
Com as taxas de juro e os preços do petróleo baixos, os alemães estão a afastar-se da poupança. O setor imobiliário é agora visto como um investimento atrativo.
As autoridades alemãs estimam que o bom desempenho económico vai manter-se ao longo do ano. Para 2016 preveem um crescimento de 1,7%.