Tesla revela colaboração exclusiva com Panasonic
Comentários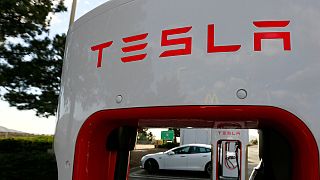 As baterias do Modelo 3 da Tesla serão da Panasonic. Elon Musk, presidente executivo do construtor automóvel norte-americano, revela estar a trabalhar em exclusivo com a companhia japonesa.
Would like to clarify that Tesla is working exclusively with Panasonic for Model 3 cells. News articles claiming otherwise are incorrect.

— Elon Musk (@elonmusk) 8 de junho de 2016
A revelação põe fim aos rumores sobre eventuais discussões em curso entre a Tesla e a Samsung.
O Modelo 3 será o primeiro carro da Tesla com produção em massa. A companhia tem mais de 370 mil encomendas do veículo elétrico de luxo.
No quadro da colaboração, a Panasonic estará disposta a contribuir um investimento de 1,6 mil milhões de dólares para a fábrica gigante da Tesla.
Tesla's quest to build the machine behind the machine https://t.co/29LA3dUrth

— Fortune (@FortuneMagazine) 6 de junho de 2016
As declarações de Musk provocaram uma forte subida das ações Panasonic e fizeram afundar os títulos Samsung.