Reino Unido: Owen Smith anuncia candidatura à liderança do Partido Trabalhista
Comentários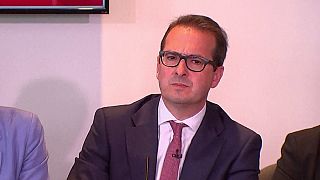 Owen Smith é o terceiro nome a juntar-se aos boletins de voto para a nova liderança do Partido Trabalhista.
O anúncio foi feito, esta quarta-feira, em Londres, dois dias depois de Angela Eagle ter desafiado Jeremy Corbyn.
Today @angelaeagle launched her campaign for the Leadership of the Labour Party https://t.co/mtWHveZZZzpic.twitter.com/ZwysGEdHDo

— Team Angela Eagle (@TeamAngelaEagle) 11 de julho de 2016
O ex-ministro-sombra do Trabalho e Pensões, de 46 anos, afirma que está pronto para comandar a oposição trabalhista.
"Jeremy Corbyn fez um bom trabalho em alguns aspetos, mas não é um líder que nos possa conduzir à próxima eleição e ganhar. Os trabalhadores deste país não se podem dar ao luxo de ter um Partido Trabalhista que não apresenta uma forte oposição e uma alternativa credível ao governo. Estou determinado a alcançar isso, essa liderança de que precisamos".
O resultado do 'Brexit' provocou conflitos internos no Partido Trabalhista.
Acusado de não se ter envolvido suficientemente na campanha, Jeremy Corbyn foi pressionado a abandonar o cargo.
O comité executivo nacional (NEC, em inglês) do partido já fez saber que Corbyn será automaticamente incluído nos boletins de voto, sem necessitar do apoio de 51 deputados, como os seus rivais.
I'm on the ballot paper in the Labour Party leadership contest.https://t.co/GP9mb8Ak2y

— Jeremy Corbyn MP (@jeremycorbyn) 12 de julho de 2016
O novo líder do principal partido da oposição deverá ser anunciado no final de setembro.