Eleições norte-americanas: Que futuro para o acordo TTIP?
Comentários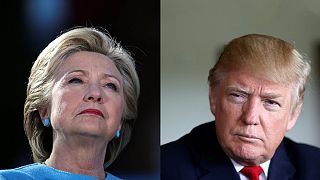 As negociações entre europeus e norte-americanos para a liberalização das trocas comerciais estão seriamente ameaçadas.
Os Estados Unidos e a União Europeia são, mutuamente, os principais parceiros comerciais. Mas, a Parceria Transatlântica para o Comércio e Investimento, designada TTIP em inglês, têm sérios opositores nos dois lados do Atlântico.
Em termos de comércio, Hillary Clinton mantém uma posição ambígua. Enquanto Secretária de Estado de Obama, a candidata democrata apoiou a Parceria TransPacífico (TPP, sigla em inglês), mas agora mostra-se cética, procurando obter os votos dos apoiantes de Bernie Sanders, um opositor do TPP e do TTIP.
Trump talks tough on trade and Chinese steel hurting American workers—but he bought Chinese steel for two of his last three buildings.

— Hillary Clinton (@HillaryClinton) 10 octobre 2016
Já o rival Donald Trump defende uma política protecionista. O candidato republicano é contra todos os acordos comerciais existentes, a começar pelo NAFTA, pois estima que promovem a perda de empregos nos Estados Unidos.
In Gettysburg, Trump vows NAFTA renegotiation, opposition to AT&T/Time Warner deal https://t.co/Zc24HuwQrg

—

CNBC

(@CNBC) 22 octobre 2016
Mas há, também, muitas vozes contra o TTIP na Europa. Países como França, Áustria e Eslováquia tentam bloquear as negociações e os cidadãos queixam-se da falta de transparência nas discussões entre Bruxelas e Washington.
.fhollande</a>: it is because of significant advances on <a href="https://twitter.com/hashtag/CETA?src=hash">#CETA</a> that we were able to refuse <a href="https://twitter.com/hashtag/TTIP?src=hash">#TTIP</a></p>&mdash; Open Europe (OpenEurope) 21 de outubro de 2016