Fórmula 1: Lance Stroll é a nova aposta da Williams
Comentários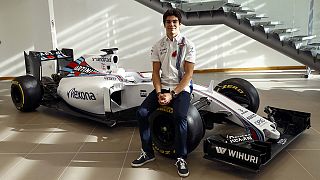 O jovem canadiano Lance Stroll é o novo piloto da Williams para a temporada 2017.
BREAKING: Teenage rookie Lance Stroll confirmed as a WilliamsRacing</a> driver for 2017, alongside <a href="https://twitter.com/ValtteriBottas">ValtteriBottas >> https://t.co/v3UOZ9Nx7Zpic.twitter.com/oMVeTgroyc

— Formula 1 (@F1) November 3, 2016
A Williams confirmou também que o finlandês Valtteri Bottas continuará na escuderia na próxima época.
I'm very happy to announce that I will be staying WilliamsRacing</a> for a fifth season in 2017, with <a href="https://twitter.com/lance_stroll">lance_stroll as my teammate #VB77pic.twitter.com/rSJOzAM70V

— Valtteri Bottas (@ValtteriBottas) November 3, 2016
Com 18 anos, Stroll será o piloto mais jovem no circuito na próxima temporada, mas não é o mais jovem de sempre a lançar-se na Fórmula 1. Esse título está nas mãos do belga Max Verstappen, que se estreou aos 17 anos. Stroll recusa comparações até porque Verstappen tinha "um estreante por companheiro equipa" e o canadiano terá o "experiente" Bottas, que está há oito anos na Williams e chegou à Fórmula 1 em 2013. Para Stroll o importante é estar "rodeado por uma grande equipa que sabe trabalhar com jovens pilotos".
.Lance_Stroll</a>: It&#39;s a dream come true for me. I&#39;m really looking forward to hopefully a great season! <a href="https://t.co/4mlqLGN8tG">pic.twitter.com/4mlqLGN8tG</a></p>&mdash; WILLIAMS RACING (WilliamsRacing) November 3, 2016
Stroll chega à categoria rainha do automobilismo depois de já ter ganho o campeonato italiano de Fórmula 4, a Toyota Racing Series da Nova Zelândia e, este ano, o europeu de Fórmula 3.
He may still be a teenager, but WilliamsRacing</a> new boy Lance Stroll believes he&#39;s served his apprenticeship and will be F1 ready in 2017... <a href="https://t.co/2vn0UNs8Yh">pic.twitter.com/2vn0UNs8Yh</a></p>&mdash; Formula 1 (F1) November 3, 2016
O canadiano vai substituir o brasileiro Felipe Massa, que se retira no final da temporada.
Analysis: Has F1's new rookie lance_stroll</a> got what it takes?<a href="https://t.co/j6022fzHYS">https://t.co/j6022fzHYS</a> <a href="https://twitter.com/hashtag/F1?src=hash">#F1</a> <a href="https://t.co/zuKN7Jil5o">pic.twitter.com/zuKN7Jil5o</a></p>&mdash; Motorsport.com (Motorsport) November 3, 2016