Pioneiro do Rock'n'Roll Chuck Berry morre aos 90 anos.
Comentários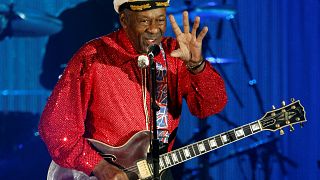 Faleceu Chuck Berry. A figura ícone do Rock'n Roll morreu no Missouri com 90 anos.
A notícia foi avançada pela polícia do condado de St. Charles. As causas da morte de Charles Edward Anderson Berry Sr. ainda não são conhecidas, o cantor estava em casa quando morreu.
Chuck Berry ficou especialmente conhecido pelos temas "Johnny Be Good" e "Maybeline, músicas que fizeram vibrar jovens de todo o mundo entre os anos 50 e 60.
Chuck Berry just died, police says. Rest in peace Rock N Roll giant. Johnny Be Good… https://t.co/4MKeTHMgIepic.twitter.com/lbtDWnYq2Q

— Michel Santos (@Cibereporter) March 18, 2017
A lenda do rock tinha anunciado em outubro, por altura do seu 90º aniversário, que iria editar um novo álbum.