Nobel da Paz Aung San Suu Kyi visita rainha Isabel II
Comentários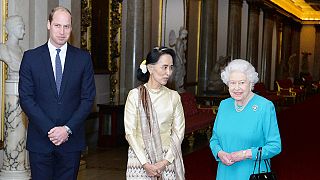 A Nobel da Paz Aung San Suu Kyi, Primeira-ministra do Mianmar, encontrou-se, esta sexta-feira, com a Rainha Isabel II, o Príncipe Carlos e o seu filho mais velho, Guilherme.
The Queen and The Duke of Cambridge welcome Her Excellency Daw Aung San Suu Kyi to Buckingham Palace. pic.twitter.com/DVS6ywt3Hy

— The Royal Family (@RoyalFamily) May 5, 2017
Há dois dias, aquela que é também responsável pela Diplomacia do país tinha sido recebida pelo papa Francisco, no Vaticano, num encontro que marcou o reinício das relações entre a Santa Sé e este país asiático.
Aung San Suu Kyi é chefe do executivo do Mianmar desde abril de 2016. Uma viragem no país onde, depois do primeiro sufrágio livre em mais de 25 anos, se pôs fim à hegemonia militar.