Protestos pela democracia voltam a Hong Kong
Comentários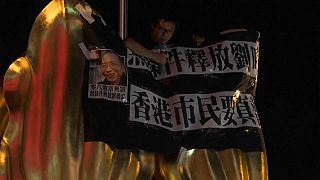 A polícia de Hong Kong deteve, esta quarta-feira, vários ativistas pró-democracia, durante uma manifestação em frente ao monumento que assinala a passagem da soberania do território do Reino Unido para a China.
Os protestos ocorreram um dia antes da chegada do presidente chinês, Xi Jinping, que se desloca à cidade para celebrar duas décadas da política de "um país, dois sistemas".
Spoke with a few Chinese tourists watching the #HongKong protest with confusion. "Who is #LiuXiaobo?" They asked. pic.twitter.com/ekEQvLACGJ

— Venus Wu (@wu_venus) June 28, 2017
Além de exigirem a mudança do regime, os manifestantes pediam a libertação do Prémio Nobel da Paz, o ativista Liu Xiaobo.
O protesto culminou com a detenção de vários ativistas entre os quais, Joshua Wong. O militante ficou conhecido como sendo o rosto do movimento pró-democracia que em 2014 ocuparam as ruas de Hong Kong durante 79 dias.
Joshua Wong violently dragged out of Bauhinia Square into that police van awaiting arrest#BlackBauhinia#hk20pic.twitter.com/YTXO4IREei

— Joel Christian (@2legit2trip) June 28, 2017