Casal real britânico celebra bodas de platina
Comentários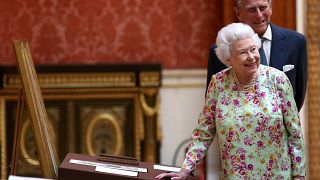 Isabel II continua a somar recordes de metais e pedras cada vez mais preciosos em 65 anos de reinado, sem abdicação à vista.
O casal real tornou-se hoje o mais longevo da história do país ao celebrar as bodas de platina, setenta anos após o casamento na Abadia de Westminster.
A Casa Real publicou uma nova fotografia oficial do casal para assinalar o aniversário do matrimónio entre a rainha, hoje com 91 anos de idade e o Duque de Edimburgo, cinco anos mais velho, e reformado desde este Verão das suas responsabilidades oficiais.
To celebrate the 70th Wedding Anniversary of The Queen and The Duke of Edinburgh, new photographs are being released worldwide. (1/3) pic.twitter.com/zQBFjQTx3L

— The Royal Family (@RoyalFamily) November 19, 2017
Segundo o historiador e biógrafo da Casa Real, Christopher Warwick:
"Claro que estas bodas de platina são um grande momento na vida da rainha e do príncipe Filipe e também na história da monarquia, uma vez que nenhum outro casal real celebrou o seu 70o aniversário de casamento".
Em 1947 o "SIM" entre Isabel e Filipe, seguido por mais de 200 milhões de pessoas, em direto na rádio, assinalava também um novo fôlego para o país após o final da Segunda Guerra Mundial.
O casal vai celebrar o aniversário, em privado, com um jantar no castelo de Windsor, quando os sinos da Abadia de Westminster vão soar durante três horas para assinalar a data.
#OTD in 1947, Princess Elizabeth married Prince Philip of Greece at Westminster Abbey. ⛪️???

View the Order of Service for their wedding on our website: https://t.co/4nkaV29MU1pic.twitter.com/WJ1S6nS0Tp

— Westminster Abbey (@wabbey) November 20, 2017
O evento é festejado também pelos colecionadores de todo o mundo, quando os correios britânicos publicaram uma série de seis selos comemorativos do "casal de platina".