Reações à morte de Nelson Mandela no Twitter
Comentários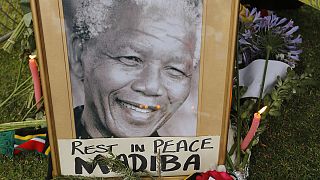 As manifestações de pesar sucedem-se por todo o Mundo, em especial, nas redes sociais da Internet através de citações, fotografias e vídeos que celebram o primeiro presidente negro da África do Sul e ícone da luta anti-apartheid, que morreu, aos 95 anos.
Este 'tweet' foi o primeiro a ser enviado com a hashtag #Mandela depois das movimentações estranhas na residência de Nelson Mandela.
Reports of family meeting at Nelson #Mandela's home: http://t.co/PuGNRW6zb0 via @News24

— zenaida machado (@zenaidamz) December 5, 2013
Pouco tempo depois, confirmavam a sua morte. O primeiro anúncio feito no Twitter veio da agência noticiosa 'CBC News'.
Nelson #Mandela dies at 95, says South African President Jacob Zuma

— CBC News Alerts (@CBCAlerts) December 5, 2013
Um dos primeiros líderes mundiais a recorrer ao Twitter para expressar a sua tristeza foi o primeiro-ministro britânico David Cameron.
PM: A great light has gone out in the world. Nelson Mandela was a hero of our time. I've asked for the flag at No10 to be flown at half mast

— UK Prime Minister (@Number10gov) December 5, 2013
Pouco depois, a rede social foi inundada com mensagens de condolências de todo o mundo.
Rest in peace, Nelson Mandela. pic.twitter.com/4qlqsXLp6e

— The White House (@WhiteHouse) December 5, 2013
President Obama on Nelson Mandela: "My first political action was a protest against apartheid. I studied his words and his writings."

— White House Live (@WHLive) December 5, 2013
O presidente francês Francois Hollande afirmou: "Nelson Mandela fez história. Na África do Sul e em todo o mundo."
"Nelson Mandela aura fait l'histoire. Celle de l'Afrique du Sud. Celle du monde tout entier." (François Hollande) http://t.co/9FHg5Xwfqd

— Élysée (@Elysee) December 5, 2013
O porta-voz de Angela Merkel anunciou, "A mensagem de Mandela de reconciliação e rejeição de qualquer racismo continua a ser uma inspiração."
Wir trauern um Nelson #Mandela - seine Botschaft der Versöhnung und der Absage an jeglichen Rassismus bleiben eine Inspiration.

— Steffen Seibert (@RegSprecher) December 6, 2013
Primeiro-ministro do Canadá, Stephen Joseph Harper: "O Canadá chora com a família de Nelson Mandela e com os cidadãos da África do Sul. O mundo perdeu um dos maiores líderes morais".
All of Canada mourns with the family of Nelson Mandela and the citizens of South Africa. The world has lost one of its great moral leaders.

— Stephen Harper (@pmharper) December 5, 2013
Our nation has lost a colossus, an epitome of humility, equality, justice, peace & the hope of millions; here & abroad. #RIPNelsonMandela

— ANC Info Feed (@MyANC_) December 5, 2013
#Mandela changed course of history for his people, country, continent & the world. My thoughts are w/his family&people of #SouthAfrica/JMB

— José Manuel Barroso (@BarrosoEU) December 5, 2013
The world has lost a hero and an icon. A defender of freedom, justice and equality. An inspiration for millions. Goodbye #Mandiba.

— Martin Schulz (@MartinSchulz) December 5, 2013
A presidente brasileira, Dilma Rousseff, também prestou os seus pêsames.
O combate de #Mandela transformou-se em um paradigma para todos aqueles que lutam pela justiça, pela liberdade e pela igualdade.

— Dilma Rousseff (@dilmabr) December 5, 2013
Presidente da Venezuela, Nicolás Maduro decretou três dias de luto.
En homenaje al Gigante Nelson Mandela decidí en nombre de toda Venezuela,decretar tres días de duelo en toda la Patria de Bolívar y Chávez!!

— Nicolás Maduro (@NicolasMaduro) December 5, 2013
PM on Nelson Mandela : "A giant among men has passed away. This is as much India's loss as South Africa's. He was a true Gandhian."

— Dr Manmohan Singh (@PMOIndia) December 6, 2013
Addis Ababa, Ethiopia – 6 December 2013 Africa is bereaved Madiba Nelson Rolihlahla Mandela, Pan African hero,... http://t.co/3c0O1XMcVE

— African Union (@_AfricanUnion) December 6, 2013
Nelson #Mandela - one of the greatest political figures of our times. Let's honour his memory by collective commitment to democracy

— Herman Van Rompuy (@euHvR) December 5, 2013
"More than anyone else, Nelson #Mandela inspired my generation and our world" #EU High Rep Catherine #Ashton

— EU External Action (@eu_eeas) December 6, 2013
Nelson Mandela was a great statesman who inspired people in their quest for freedom, dignity and equality.

— Abdullah Gül (@cbabdullahgul) December 6, 2013