Abu Dhabi isola-se no comando da Volvo Ocean Race
Comentários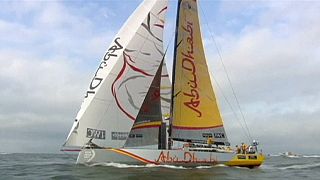 Dezoito dias, vinte e três horas, trinta minutos e dez segundos. Foi o tempo que o Abu Dhabi precisou para fazer e ligação entre Auckland, na Nova Zelândia, e o porto brasileiro de Itajaí. Um percurso que está longe de ser uma pera doce, ou não implicasse a passagem pelo terrível cabo Horn.
O veleiro liderado pelo inglês Ian Walker passou com distinção, tornando-se no primeiro a vencer duas etapas na presente edição da Volvo Ocean Race e isolando-se na liderança da classificação geral.
.ADORlog</a> finish first in the toughest leg of all - and an important one. More: <a href="http://t.co/frwIqfZ55V">http://t.co/frwIqfZ55V</a> <a href="https://twitter.com/hashtag/VOR?src=hash">#VOR</a> <a href="http://t.co/QAC5SO1qqD">pic.twitter.com/QAC5SO1qqD</a></p>&mdash; Volvo Ocean Race (volvooceanrace) 5 abril 2015
Concluída a quinta etapa da mítica regata, o Abu Dhabi lidera com uma vantagem de sete pontos sobre o Dongfeng. Os chineses foram os grandes azarados da etapa, tendo sido obrigados a abandonar com um mastro partido.
Procuram agora reparar o veleiro a tempo da partida para a sexta etapa, rumo a Newport, nos Estados Unidos, a 19 de abril.
Abu Dhabi isola-se na liderança da volvooceanrace</a> <a href="http://t.co/1e3YuEYKwx">pic.twitter.com/1e3YuEYKwx</a></p>&mdash; Bruno Sousa (BrunoJoaoSousa) 6 abril 2015