Eagles of Death Metal regressam ao Bataclan
Comentários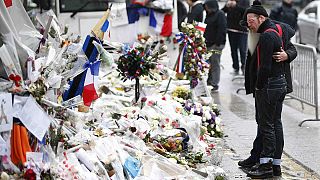 Foi um regresso emotivo a um local onde sobreviveram a um massacre. Os elementos da banda americana Eagles of Death Metal recolheram-se diante da sala de espetáculos parisiense Bataclan, onde davam um concerto na trágica noite de 13 de novembro.
O comando terrorista que ensanguentou a capital francesa matou 90 pessoas neste local. O responsável comercial do grupo e três elementos da sua editora discográfica perderam a vida nessa noite. No total, os ataques em vários locais de Paris fizeram 130 mortos e três centenas de feridos.
A banda californiana manifestou o desejo de regressar ao Bataclan para um concerto, mas na segunda-feira à noite foram os convidados especiais dos U2 que tocaram no pavilhão de Bercy. No final do concerto, Bono apresentou "algumas pessoas cujas vidas farão sempre parte de Paris."
Além do original I Love You All The Time, os Eagles of Death Metal partilharam com o público a canção de Patti Smith: People Have The Power.