Michael Bloomberg "não arrisca" candidatar-se à Casa Branca
Comentários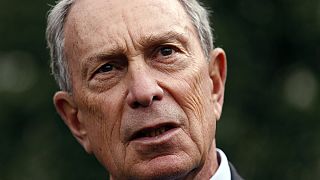 O ex-presidente da Câmara de Nova Iorque Michael Bloomberg rejeita entrar na corrida à Casa Branca como candidato independente.
Num artigo publicado na agência de notícas de que é proprietário, Bloomberg justifica a decisão com várias sondagens que o dão como derrotado num eventual duelo entre Donald Trump e Hillary Clinton.
The Risk I Will Not Take https://t.co/B6lPpLW5gU

— Mike Bloomberg (@MikeBloomberg) March 7, 2016
Criticando a forma como os candidatos presidenciais se tornaram "bodes expiatórios", Bloomberg, não poupa as propostas "demagógicas" dos candidatos republicanos Trump e Cruz sobre a imigração ou sobre os muçulmanos.
No artigo, intitulado "o risco que não vou enfrentar", o milionário cita Abrahm Lincoln para afirmar que Trump, "apela aos nossos impulsos mais básicos".
O ex-futuro candidato afirma que quer evitar uma situação em que a sua candidatura pudesse favorecer a posição de Donald Trump.
Maps show where Bloomberg aides thought he would be competitive https://t.co/AWbIzuL1DDpic.twitter.com/kkc8LfxnL1

— NYT Politics (@nytpolitics) March 8, 2016
Segundo informações reveladas pelo jornal New York Times, as últimas sondagens teriam arrefecido os ânimos de Bloomberg, nomeadamente depois de Hillary Clinton ter retomado as rédeas da corrida Democrata, face a Bernie Sanders.