Velejadora Sarah Young morre na Clipper Round the World
Comentários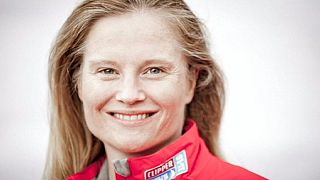 A velejadora Sarah Young, de 40 anos, morreu esta sexta-feira, no 12º dia do Clipper Round the World. Segundo uma "nota publicada na "página oficial da corrida":
http://clipperroundtheworld.com/news/article/fatality-statement—sarah-young, a britânica foi levada por uma onda, no momento em que ventos fortes varriam a região, a velejadora não estava amarrada ao iate.
It is with deep sadness today that we are reporting the death of crew member Sarah Young following an MOB incident https://t.co/zoK19O1GIo

— The Clipper Race (@ClipperRace) 1 de abril de 2016
A tragédia ocorreu no Oceano Pacífico, o corpo foi recuperado graças ao sistema de identificação da embarcação. Young participava na travessia da cidade chinesa de Qingdao até Seattle, nos Estados Unidos, estava pouco mais de 3000 milhas do fim da competição.
I'm deeply saddened by the loss of Sarah. She was a very popular and integral member of the race family. Info: https://t.co/N2L5ds5cj7

— Robin Knox-Johnston (@SirRKJ) 1 de abril de 2016
É a segunda morte, em seis meses, no IchorCoal. Em setembro, Andy Ashman, paramédico, morreu depois de ser atingido por uma vela da embarcação, não muito longe da costa portuguesa.