Europa League: Liverpool avança para a semifinal
Comentários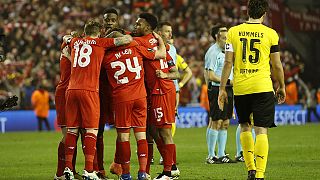 O Liverpool está nas meias-finais da Liga Europa, depois de ter derrotado esta quinta-feira em casa o Borussia Dortmund, por 4-3, na segunda-mão dos quartos-de-final.
When you come from 3-1 down to win 4-3 on the night and 5-4 on aggregate… pic.twitter.com/Pv3WxL8NfA

— Liverpool FC (@LFC) 14 avril 2016
O médio Henrikh Mkhitaryan inaugurou o marcador para o Borussia Dortmund aos 4 minutos de jogo. Aos 8, era o atacante franco-gabonês Pierre-Emerick Aubameyang a fazer o segundo golo para o clube alemão.
O jovem atacante belga Divock Origi marcou o primeiro golo do Liverpool aos 48 minutos e Marco Reus fez o terceiro golo do Borussia Dortmund aos 56.
Aos 65 minutos, o brasileiro Philippe Coutinho marcou o segundo do Liverpool.
O francês Mamadou Sakho fez o empate, aos 78, para o Liverpool. O quarto golo do Liverpool foi marcado pelo croata Dejan Lovren, no tempo adicional.
Nos restantes jogos desta segunda-mão dos quartos-de-final da Liga Europa, o Sporting de Braga perdeu por 4-0 com o Shakhtar, o Sevilha venceu por pénaltis o Athletic Bilbau e o Sparta de Praga foi derrotado por 2-4 pelo Villarreal.
O Liverpool junta-se assim ao Shakhtar Donetsk e ao Villarreal para o sorteio das meias-finais da Liga Europa 2015/16.
O Sporting de Braga está ainda nas duas Taças em Portugal. Os minhotos vão jogar as meias finais da Taça da Liga com o Benfica e na final da Taça de Portugal, onde vão enfrentar o FC Porto.