EUA denunciam assassinato "bárbaro" de ativista gay no Bangladesh
Comentários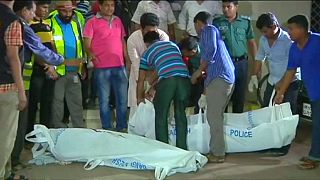 Os Estados Unidos condenaram o assassinato de um conhecido militante dos direitos dos homossexuais no Bangladesh, morto juntamente com um amigo ativista perto da sua residência, na capital, em Daca.
O porta-voz do departamento de Estado norte-americano classificou o crime de um "ataque bárbaro".
"We are outraged."statedeptspox</a> on murders of <a href="https://twitter.com/usembassydhaka">usembassydhaka employee & a fellow LGBTI activist in #Bangladesh. https://t.co/jH9hcjYY13

— Department of State (@StateDept) 25 avril 2016
Figura de proa da defesa dos direitos dos homossexuais no Bangladesh, Xulhaz Mannan trabalhava com a embaixada norte-americana em Daca, colaborando nomeadamente com a Agência dos Estados Unidos para o Desenvolvimento Internacional.
O crime foi cometido por um grupo de homens munidos de armas brancas e as autoridades acreditam tratar-se do último de uma série de homicídios contra ativistas laicos críticos do integrismo religioso no Bangladesh.
No sábado passado, o grupo extremista Estado Islâmico reivindicou o assassinato, em circunstâncias semelhantes, de um professor universitário na cidade de Rajshahi, no oeste do país.