Uber e Lyft suspendem atividades na capital do Texas
Comentários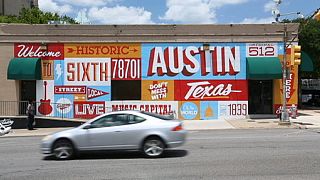 Uber e Lyft suspendem as atividades na cidade de Austin, no Texas. Os serviços de reserva de veículos com motoristas anunciaram a decisão após o referendo do fim de semana.
Uber and Lyft leaving Austin after major background checks defeat: https://t.co/cPsPkdegRspic.twitter.com/fD1LydkAP9

— The Hill (@thehill) 9 de maio de 2016
No sábado, 56% dos eleitores disseram "sim" à introdução das impressões digitais no controlo dos antecedentes dos condutores, tal como para os taxistas e motoristas de limusines.
As duas empresas gastaram mais de 7 milhões de euros na campanha.
A Uber e Lyft promoveram a consulta popular para tentar anular a decisão do conselho municipal. A medida visa garantir a segurança dos utentes e evitar fraudes.
Austin rejects Uber self-regulation: https://t.co/BnadPgf93jpic.twitter.com/jga6V5ytck

— The Daily Beast (@thedailybeast) 8 de maio de 2016