Cannes: britânico Ken Loach arrecada Palme d'Or pela segunda vez com "I, Daniel Blake"
Comentários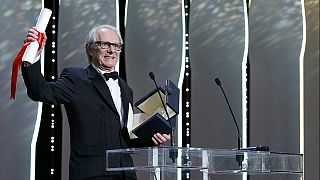 O realizador britânico veterano Ken Loach arrecadou a Palme d'Or do Festival de Cannes com o filme "I, Daniel Blake".
Trata-se da segunda Palme d'Or para Ken Loach que em 2006 recebeu o prémio com o filme "The Wind that Shakes the Barley".
O filme premiado "I, Daniel Blake" conta a história de um marceneiro do norte de Inglaterra que sobreviveu a um ataque cardíaco mas que acabará por sucumbir perante a burocracia do estado social.
O Grande Prémio foi atribuído a "Juste la fin du Monde", do realizador canadiano Xavier Dolan.
O prémio de melhor ator masculino foi para Shahab Hosseini, pelo papel desempenhado no filme "Le Client", do realizador iraniano Asghar Farhadi.
Nos papéis femininos, o destaque vai para Jaclyn Jose pelo papel desempenhado em "Ma'Rosa", do realizador filipino Brillante Mendoza.
Por último, o Prémio do Jurí foi atribuído a "American Honey", realizado pela britânica Andrea Arnold.