China: Tufão Nida deixa rastro de destruição em Hong Kong e Macau
Comentários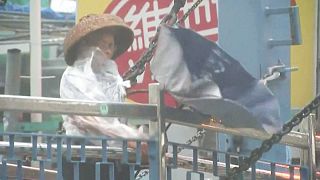 Os alarmes soaram nas cidades de Macau e Hong Kong, na China.
A passagem do tufão Nida elevou os níveis de alerta até 8, em Hong Kong, e 3 em Macau.
What the hell, Macau? How is this not T8? Casinos > safety, much? #TyphoonNidapic.twitter.com/t2sipygxUu

— Joana Costa (@JoanaSMCosta) August 2, 2016
Os ventos de mais de 100 km por hora obrigaram ao cancelamento de mais de 150 voos na antiga colónia britânica e mais de 20 na antiga cidade portuguesa.
Mais de três centenas de voos sofreram atrasos.
A intempérie levou, ainda, ao cancelamento das ligações marítimas na região. Centenas de passageiros passaram a noite e a madrugada nos aeroportos e nos portos.
As rajadas de vento levaram à queda de objetos e de árvores. Apesar da violência da tempestade, as autoridades não registaram vítimas.
Driving in #HongKong T8 #TyphoonNida Some are still working. Look for the man in the hat pic.twitter.com/HYOavcPOfw

— Hilary Whiteman (@HilaryCNN) August 1, 2016
De acordo com os Serviços Meteorológicos e Geofísicos de Macau, o Nida está a perder força e transformou-se agora numa tempestade tropical. No entanto o mau tempo vai permanecer na região.