EUA autorizam venda da Syngenta à ChemChina
Comentários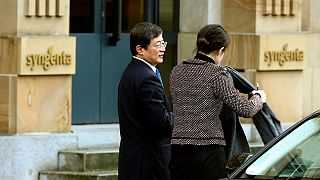 As autoridades norte-americanas deram luz verde à compra da suíça Syngenta pela empresa pública chinesa China National Chemical Corp ChemChina.
Segundo a Bloomberg a maior produtora mundial de pesticidas, foi vendida por 43 mil milhões de dólares, cerca de 38 mil milhões de euros. Um acordo que vinha a ser negociado desde o início do ano.
ChemChina and Syngenta receive clearance from the Committee on Foreign Investment in the United States (CFIUS) : https://t.co/4HSbM4UJqV

— Syngenta (@Syngenta) 22 de agosto de 2016
Da fusão, que representa o maior negócio de sempre realizado por uma empresa pública chinesa, nasce a maior companhia mundial de pesticidas e produtos agroquímicos.
O futuro da Syngenta era incerto. A empresa estava a ser pressionada, entre outras coisas, pela instabilidade nos mercados, que estava a penalizar as suas receitas.
Ainda assim, em 2015, a administração da empresa suíça rejeitou uma oferta de compra por parte da norte-americana Monsanto, no valor de 46 mil milhões de dólares, cerca de 41 mil milhões de euros, por considerar que não era suficiente.