Foto de assassínio do embaixador russo vence World Press Photo
Comentários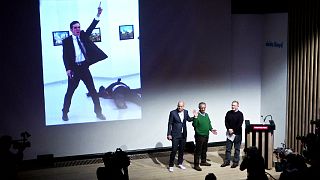 A fotografia tirada segundos depois do assassínio do embaixador russo na Turquia é a grande vencedora da edição deste ano dos prémios World Press Photo.
A coragem de ficar frente ao assassino, aliada à sorte de estar no sítio certo à hora certa valeu o prémio de foto do ano ao turco Burhan Ozbilici, da Associated Press: "Os meus heróis do passado e do futuro são os jornalistas corajosos, honestos e independentes", disse o fotógrafo.
The 2017 World Press Photo of the Year is by AP</a>&#39;s <a href="https://twitter.com/BurhanOzbilici">BurhanOzbilici of an assassination in #Turkeyhttps://t.co/RmBkI0qNxJ#WPPh2017pic.twitter.com/ehglw1hFNj

— World Press Photo (@WorldPressPhoto) February 13, 2017
Brave Turkish photographer BurhanOzbilici</a> wins <a href="https://twitter.com/WorldPressPhoto">WorldPressPhoto of the year https://t.co/9OBmCPUOms ! It ran on NYT front page in December pic.twitter.com/dp0LB75rL3

— Mikko Takkunen (@photojournalism) February 13, 2017
Embora a publicação nos media tenha sido criticada por alguns, a imagem tornou-se icónica e foi partilhada vezes sem conta nas redes sociais. A série, tirada antes e depois do assassínio, valeu a Ozbilici também o prémio de reportagem na categoria Spot News.
A World Press Photo recompensa todos os anos as fotos que mais marcaram o fotojornalismo.
Foram, ao todo, distribuídos prémios em oito categorias, que este ano foram para 45 fotógrafos de 25 países.
---