Bruxelas relembra vítimas de atentados terroristas
Comentários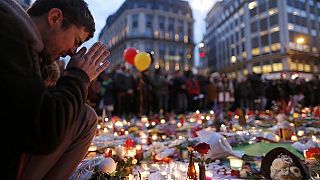 Um ano depois dos atentados que vitimaram 32 pessoas, Bruxelas relembra as vítimas e os atentados que lançaram o caos na capital belga.
A Bélgica acordava para o horror quando três bombistas suicidas se fizeram explodir no aeroporto e numa estação de metro de Bruxelas.
Chronology of the 2016 #BrusselsAttacks in #videographics. EN https://t.co/TBGo4jz9rf & FR https://t.co/WoIapR5Gkg#AFPpic.twitter.com/hTswDv60iJ

—

AFP

graphics (@AFPgraphics) 30 de janeiro de 2017
Doze meses depois, o país realiza cerimónias em memória das vítimas, programadas para acontecerem no momento em que os ocorreram os atentados.
Tous Ensemble!
Metro #Maelbeek opens after #BrusselsAttackspic.twitter.com/fa0CeFILjq

— Alessandro Gallo (@AleGalloBxl) 25 de abril de 2016
Os ataques em Bruxelas, antecedidos por outros mais trágicos em Paris, continuaram a levantar questões sobre segurança e reavivaram o debate numa Europa sem fronteiras físicas.
Um ano depois dos ataques a Bélgica continua em estado de alerta, consciente das ameaças, que vêm de dentro mas que podem também chegar de fora, num país onde as portas continuam abertas, ainda que a segurança seja mais apertada.
One year after the terrorist attacks of 22/03/16, meeting with Ms Nidhi Chaphekar #BrusselsAttackspic.twitter.com/YZ1APRFL8T

— Belgian Royal Palace (@MonarchieBe) 20 de março de 2017