Paraguai: Presidente renuncia a controverso projecto de reeleição
Comentários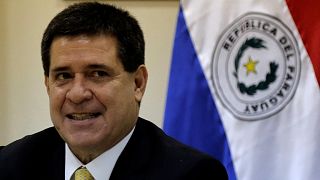 O presidente do Paraguai, Horacio Cartes, disse, segunda-feira, que, para preservar a estabilidade no país, não seria candidato na eleição do próximo ano.
Porque el Paraguay siempre está primero! pic.twitter.com/ozoxuCPiB1

— Horacio_Cartes (@Horacio_Cartes) April 17, 2017
Em carta dirigida ao Arcebispo de Assunção, partilhada no Twitter, Cartes diz que a sua decisão foi inspirada pelo apelo do Papa Francisco para a paz e diálogo no Paraguai.
#Paraguay president Horacio #Cartes announces he will not run for re-election in 2018 #Cartesdesistehttps://t.co/gVOieu1ww4pic.twitter.com/13uYMUR2NU

— dwnews (@dwnews) April 17, 2017
De recordar que, a 31 de março, manifestantes incendiaram o Congresso após o Senado votar secretamente a favor da emenda que permite os segundos mandatos.
WATCH: Protesters Set Paraguay Congress Ablaze, 30+ Hurt In Clashes With Police – https://t.co/NAxvXoSvkfpic.twitter.com/6zLb1Fcx4G#Retwee…

—

HAYDN

R.

SNAPE

(@HAYDNRSNAPE) April 1, 2017
A onda de protestos violentos que atingiu o país provocou um morto e uma centena de feridos.
A decisão de Cartes surge no momento em que aguarda a chegada de um enviado do presidente norte-americano, Donald Trump, e do secretário-geral da Organização dos Estados Americanos (OEA), Luis Almagro, para relançar o diálogo.
Thousands rally in front of Congress in Asuncion to protest bid to lift ban on Paraguay President Horacio Cartes running for re-election pic.twitter.com/5k95BqSiui

—

AFP

news agency (@AFP) April 4, 2017
No espírito da Constituição de 1992, um único mandato de cinco anos é o antídoto contra o autoritarismo, num país marcado por 35 anos de ditadura do general Alfredo Stroessner, de 1954 a 1989 .