Theresa May anuncia inquérito oficial a Grenfell
Comentários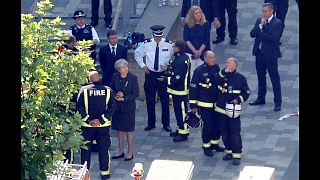 Um fogo finalmente extinto, o da Torre Grenfell, na zona norte de Kensigton, Londres.
Terá começado no quarto dos 24 andares existentes cerca de uma hora após a meia-noite de quarta-feira, engoliu rapidamente todo o edifício, matou 17 pessoas com a possibilidade deste número vir a ser acrescido e foi extinto cerca de 24 horas depois. A primeira-ministra britânica anunciou já um inquérito à origem do incêndio:
"Quando visitei o local, quando falei com os serviços de emergência, disseram-me como progrediu o fogo, como tomou todo o edifício, foi rápido, feroz e inesperado. (…) As pessoas merecem respostas e o inquérito vai dá-las", garantiu Theresa May.
Authorities need to reconsider cladding buildings, experts warn https://t.co/DikITeUlGM

— The Independent (@Independent) June 15, 2017
O mayor de Londres, Sadiq Khan esteve também na zona de incêndio, com o ressentimento dos residentes a fazer-se sentir, dadas as denúncias anteriores ao incêndio quanto ao estado degradado da torre habitacional e a ausência de respostas por parte do poder local.
Os bombeiros resgataram 65 pessoas das chamas, 74 outras foram tratadas em seis hospitais e 15 de entre essas estão em estado crítico.
A drone courtesy of kentfirerescue</a> & specialist search dogs are all part of our operations with <a href="https://twitter.com/metpoliceuk">metpoliceuk at #GrenfellTower#999Familypic.twitter.com/3bCWXYmWvC

— London Fire Brigade (@LondonFire) June 15, 2017
Há ainda muita gente à procura de familiares, amigos e conhecidos.
O prédio, de 24 andares, tinha 127 apartamentos e abrigaria entre 400 a 600 pessoas.