Trump visita congressista baleado na Virgínia
Comentários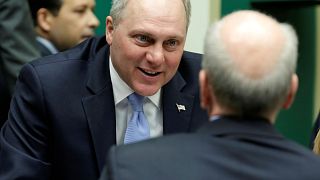 Se dúvidas houvesse, Donald Trump confirmou, através das redes sociais, que Steve Scalise se encontra num estado "bastante complicado."
Acompanhado de Melania Trump, o presidente dos Estados Unidos deslocou-se ao hospital para visitar de surpresa o congressista republicano, baleado esta quarta-feira num tiroteio no estado da Virgínia e mais tarde submetido a uma cirurgia de urgência.
Just left hospital. Rep. Steve Scalise, one of the truly great people, is in very tough shape – but he is a real fighter. Pray for Steve!

— Donald J. Trump (@realDonaldTrump) June 15, 2017
São e salvo, o congressista republicano Roger Williams também não escondeu o choque: "Poderiam, muito facilmente, ter-se registado 25 mortes ou mais. Julgo que tínhamos cerca de 25 jogadores e 15 elementos do staff. Os agentes de segurança Krystal Griner e David Bailey evitaram o pior e estarei grato para sempre."
O atacante, um homem de 66 anos abatido a tiro pela polícia, era um apoiante declarado do democrata Bernie Sanders, que condenou a tragédia.
"Estou revoltado com este ato abjeto. Permitam que seja claro: é inaceitável qualquer forma de violência na nossa sociedade e condeno este ato nos termos mais firmes", disse o senador independente do Vermont.
Scalise, eleito pelo estado do Louisiana, foi baleado num tiroteio num campo de basebol em Alexandria, onde se encontravam diversos elementos do Partido Republicano que treinavam para um jogo de beneficência.