Navios nucleares partem de França com destino ao Japão
Comentários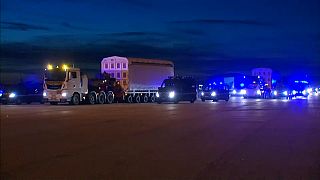 Dois navios carregados de Mox, um combustível nuclear que mistura urânio empobrecido com plutónio e é muito radioativo, partem esta quarta-feira de Cherburgo, em França, com destino ao Japão, onde irá alimentar a produção de energia nuclear do país.
Todo o processo ocorre sob forte vigilância das autoridades.
6th #MOX shipment to Japan: in Cherbourg, the handling operations are in progress. #recycling#nuclear#energypic.twitter.com/WrVivA14V8

—

AREVA

U.S. (@AREVAus) July 5, 2017
"O que posso dizer é que existem muitos sistemas de segurança a bordo. Além disso, os navios são escoltados por uma unidade especial da polícia britânica, que está a bordo, e os navios viajam juntos", afirma o diretor da International Nuclear Services France, Paul Harding.
É o sexto transporte do género realizado entre França e o Japão, desde 1999. O último ocorreu em 2013.
O envio de combustíveis nucleares é alvo de protestos por organizações ambientalistas internacionais como a Greenpeace ou a Quercus. A ONG portuguesa tem-se insurgido contra a passagem dos navios nucleares pela Zona Económica Exclusiva de Portugal.