John Kelly é o novo chefe de gabinete da Casa Branca
Comentários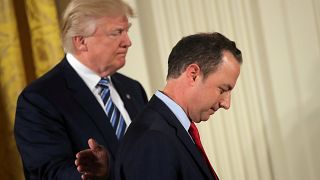 O Presidente americano Donald Trump demitiu o chefe de gabinete. Para o lugar de Reince Priebus vai o até agora secretário da Segurança Interna, general John Kelly.
A demissão de Priebus é a segunda numa semana, depois da saída do porta voz da Casa Branca, Sean Spicer.
Numa série de tweets, o presidente teceu elogios ao novo chefe de gabinete, e agradeceu a Reince Priebus pela dedicação com que serviu o país:
I am pleased to inform you that I have just named General/Secretary John F Kelly as White House Chief of Staff. He is a Great American….

— Donald J. Trump (@realDonaldTrump) 28 de julho de 2017
…and a Great Leader. John has also done a spectacular job at Homeland Security. He has been a true star of my Administration

— Donald J. Trump (@realDonaldTrump) 28 de julho de 2017
Em declarações aos jornalistas, o presidente voltou a louvar Priebus e Kelly:
"Reince é um homem bom. John Kelly vai fazer um trabalho fantástico. O general Kelly foi uma estrela, fez um trabalho incrível até agora, respeitado por todos – um grande e excelente americano. Reince Priebus é um homem bom. Muito obrigado."
Alvo, nos últimos dias, de ataques por parte do novo diretor de comunicação da Casa Branca, Anthony Scaramucci, Reince Priebus terá pedido para sair. Considerado próximo de Ivanka Trump e do seu marido, Jared Kushner, Scaramucci também já apontou artilharia pesada contra a eminência parda da Administração Trump, Steve Bannon. Um carrocel de polémicas que faz desaparecer de vista os assuntos da governação.