Trump assina declaração de catástrofe natural para o Texas
Comentários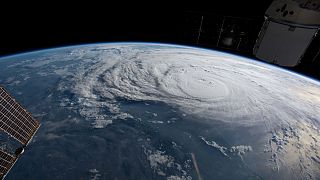 Donald Trump, presidente dos Estados Unidos, assinou uma declaração de catástrofe natural para o estado do Texas, no momento em que o furacão Harvey chega ao sul do país.
Em mensagem via rede social Twitter, Trump confirmou a assinatura do documento a pedido do Governador do Texas, Greg Abbot, sublinhando que, desta forma, o Governo Federal poderia ajudar.

Ventos superiores a 250 quilómetros por hora

O Furacão Harvey chega à costa do Texas com ventos superiores a 250 quilómetros por hora e ondas de quatro metros, na que poderia ser a mais grave tempestade nos Estados Unidos continentais em 10 anos.
Harvey atingiu agora o nível quatro, segundo o Centro Nacional de Furacões, com sede em Miami, estado da Flórida. A tempestade toma terra perto da cidade texana de Corpus Christi.

Muitos preferem ficar em suas casas

Milhares de pessoas deixaram as suas casas, temendo as cheias e um rasto de destruição. No entanto, muitos residentes desobedeceram às ordens das autoridades e protegeram-se em casa, com mantimentos e barreiras.


NEW: #Harvey continues to intensify and is now a category 4 #hurricane with maximum sustained winds of 130 mph. https://t.co/tW4KeGdBFbpic.twitter.com/7CkJkuafTb

—

NHC

Atlantic Ops (@NHC_Atlantic) 25 de agosto de 2017
Calcula-se que cerca de
6 milhões de pessoas
possam vir a ser afetadas diretamente pelo furacão, assim como o poderiam ser estruturas ligadas ao tratamento de petróleo – com uma consequente subida dos preços dos combustíveis.
O último furacão com este nível de intensidade foi o Wilma, que atingiu a Flórida em 2005.


WH statement: Trump Texas disaster declaration gives federal aid to state and local recovery efforts in areas affected by #HurricaneHarveypic.twitter.com/VpoSWMFm2Q

—

NBC

News (@NBCNews) 26 de agosto de 2017