Daesh reivindica ataque contra ONG "Save the Children"
Comentários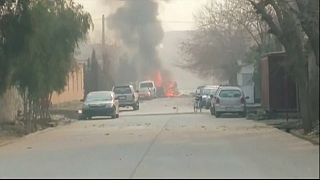 Pelo menos duas pessoas morreram e 14 ficaram feridas durante um ataque em Jalalabad, no leste do Afeganistão. O atentado, entretanto, reivindicado pelo autoproclamado Estado Islâmico ocorreu junto à sede da organização não-governamental britânica, Save The Children.
O ataque com recurso a uma viatura armadilhada aconteceu por volta das 09:00 da manhã, hora local, junto à entrada do edifício. Um grupo de homens armados entrou sede da ONG, seguindo-se uma troca de tiros com as forças de segurança afegãs. Os atacantes que utilizaram uniformes militares foram neutralizados ao fim de algumas horas.
O atentado ocorre quatro dias depois do ataque a um hotel em Cabul reivindicado pelos Talibãs onde morreram dezenas de pessoas, entre elas 14 estrangeiros.