Música: quatro dos casos de plágio mais famosos de sempre
Comentários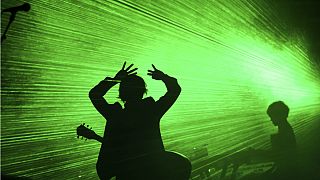 The ChiffonsHe's so fine (1963) v. George HarrisonMy sweet lord (1970)
The Chiffons

George Harrison

George Harrison foi acusado de plágio devido às semelhanças entre_My sweet lord_ e a canção He's so fine de Ronald Macky, gravada em 1962 pelo grupo The Chiffons. A música_My sweet lord_ está incluída no single do primeiro disco a solo do ex guitarrista dos Beatles em 1970.
O cantor acabou por ser considerado culpado por "plágio inconsciente" e pagou mais de 378 000 euros de indemnização.
Albert Hammond e Mike HazelwoodThe air that I breathe (1972) v. Radiohead Creep (1992)
Hammond & Hazelwoood

The Hollies

Radiohead

A canção Creep de 1992 tornou os britânicos Radiohead num dos grupos mais conhecidos da década de 90. Mas os compositores da canção The air that I breathe da banda The Hollies entraram na justiça alegando tratar-se de plágio.
No final do processo, Albert Hammond e Mike Hazlewood conseguiram ver os dois nomes incluídos como coautores do clássico dos Radiohead.
Huey LewisI want a new drug (1984) v. Ray Parker Jr.Ghostbusters (1984)
Huey Lewis

Ray Parker Jr.

Huey Lewis entrou com uma ação judicial contra o compositor Parker Jr. por causa de Ghostbusters celebrizado no filme Os Caça-Fantasmas
Em causa o ritmo do tema idêntico ao de I want a new drug de 1984. As duas partes assinaram um acordo extrajudicial que foi mantido em sigilo.
Ramón Arias VásquezLoca con su tiguere (1998) v. Shakira & El CataLoca(2010)
Shakira & El Cata

El Cata, 2007

A canção Loca da colombiana Shakira foi considerada como plágio de uma obra do compositor dominicano Ramón Arias Vásquez.
A justiça concluiu, no entanto, que apenas a versão em espanhol da canção infringiu os direitos de autor.