Cartoons: "é a rir que se castigam os costumes"
Comentários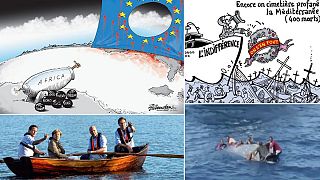 Gil Vicente celebrizou a expressão "ridendo castigat mores." Por outras palavras, "é a rir que se castigam os costumes."
Desta vez, cartoonistas de todo o mundo recorreram à sátira e ao humor para criticar aqueles que, desde há vários anos, permitem que centenas de imigrantes clandestinos continuem a morrer no mar Mediterrâneo.
Amnistia Internacional
Uma viagem em águas agitadas, mas não para todos. É o que revela o vídeo e a fotografia publicados nas redes sociais pela Amnistia Internacional
Our governments are spending money patrolling borders when they could be saving refugees and migrants' lives. EU leaders have power to change this. Make them care: http://bit.ly/FortressEurope

Posted by Amnesty International on Wednesday, April 15, 2015
Ajudem os imigrantes clandestinos. São algumas das palavras mais ouvidas, nos quatro cantos do mundo, após mais uma semana de naufrágios no Mediterrâneo
RT Dontexisteurope</a>: EU leaders: Act Now to Save Migrants and Refugees Lives! <a href="https://twitter.com/hashtag/EUsummit?src=hash">#EUsummit</a> <a href="https://twitter.com/EU2013LT">EU2013LTpic.twitter.com/zeckU90n1I

— Amnesty Vlaanderen (@amnestyvl) octubre 24, 2013
O cartoonista francês Plantu compara o mar Mediterrâneo a um cemitério numa das últimas tragédias onde morreram 400 imigrantes clandestinos e aponta o dedo aos responsáveis políticos
França: Plantu no Le Monde
#Lampedusa : Migrants lost in waves!,… A Cartoon by plantu</a> <a href="http://t.co/sgTHrScjxM">pic.twitter.com/sgTHrScjxM</a></p>&mdash; Ali Kheradpir (AliKheradpir) abril 19, 2015
Seres humanos "pontapeados." Peter Brookes, cartoonista britânico ilustra em imagem um sentimento partilhado por muitos em relação que está a acontecer com os imigrantes ilegais em Itália.
Reino Unido: Peter Brookes no The Times
My cartoon on Friday TheTimes</a> on the EU&#39;s shameful attitude to migrants sailing from N Africa. <a href="http://t.co/Xut9GbYEgd">pic.twitter.com/Xut9GbYEgd</a></p>&mdash; Peter Brookes (BrookesTimes) abril 17, 2015
A televisão Italiana RAI prestou homenagem a todos os partem nesta perigosa aventura em busca de uma vida melhor desta forma:
Itália: tributo da Rai
De Espanha chega um cartoon que dispensa qualquer comentário. Este vale por mil palavras.
Espanha: a UE de férias
El naufragio europeo, una vez más http://t.co/q2exonOY2j Por barahmikail</a> investigador de <a href="https://twitter.com/FRIDE">FRIDE (Viñeta: Ricardo) pic.twitter.com/4ySz8KCjic

— EL

MUNDO

(@elmundoes) abril 21, 2015
Esta montagem tornou-se viral nas redes sociais. Na imagem vemos os líderes mundiais que participaram na marcha, em Paris, convocada após o massacre no semanário francês Charlie Hebdo, em risco de se afundarem
Líderes mundiais atravessam o Mediterrâneo
abril 21, 2015
Diversos cartoonistas uniram-se para denunciar a política de abandono da União Europeia em relação aos imigrantes clandestinos. Estas são algumas das imagens publicadas pelo Movimento na plataforma online.
Movimento
#Cartoon Movement – WHYSEALEVELSARERISINGhttp://t.co/EwP1DQ59To#migrants#migrationpic.twitter.com/Ka7fCk61EU

— Klaas Brecht (@KlaasBrecht) abril 20, 2015
Cartoon Movement – The immigration problem and the EU http://t.co/ygOKt1Fr3Z#migrants#migrationpic.twitter.com/1EE66ysthq

— Klaas Brecht (@KlaasBrecht) abril 20, 2015
Carne para canhão. É desta forma que o cartoonista sul-africano, Brandan E. Reynolds, ilustra o que está a acontecer
África do Sul: Brandan E. Reynolds
Yet another boatload of desperate illegal migrants in search of a better life goes down… Business Day cartoon,… http://t.co/l8UGpVKRcW

— Brandan E. Reynolds (@brandanrey) abril 21, 2015