Centenário do primeiro ataque com armas químicas é assinalado na Bélgica
Comentários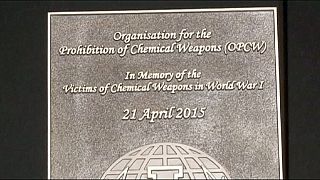 A Organização para a Proibição de Armas Químicas (OPCW, na sigla inglesa) assinalou esta terça-feira o centenário do primeiro ataque de larga escala com este tipo de produtos. Aconteceu a 22 de abril de 1915, por obra das tropas alemãs, em Ypres, na Bélgica, onde as vítimas foram agora lembradas.
Os aliados também responderam na mesma moeda. Uma placa foi também descerrada em memória das mais de 90.000 vítimas de armas químicas só na Primeira Grande Guerra mundial.
During today's "Last Post Ceremony" those gathered have observed a minute of silence for those fallen during #WWIpic.twitter.com/vdCRTs7zj6

—

OPCW

(@OPCW) 21 abril 2015
"Transformámos a herança da guerra química iniciada em Ypres num futuro que não conhecerá tais armas. Espero que a Declaração de Ypres divulgada neste evento sirva para nos motivar ainda mais no trabalho para tornarmos o nosso mundo realmente livre de armas químicas", afirmou o diretor-geral da OPCW, Ahmet Uzmcu.
Durante a Primeira Grande Guerra foram utilizadas 124.200 toneladas de agentes quimicos como arma — a maior parte pelas forças aliadas. Mais de 90 mil soldados morreram nestes ataques, em ambos os lados das barricadas. Cerca de um milhão de vítimas sobreviveram, mas com marcas para sempre.
RT NabilaJamshed</a>: Commemorating one hundred years of and against chemical weapons. <a href="https://twitter.com/OPCW">OPCWpic.twitter.com/DJxmNnZor3

—

OPCW

(@OPCW) 21 abril 2015