Esta semana no The Corner, uma curiosa forma de marcar penáltis
Comentários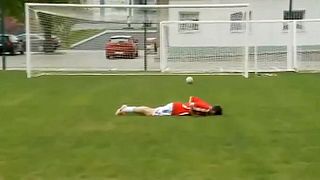 O The Corner, o nosso habitual "pontapé de canto" semanal a cruzar todo o futebol mundial, destaca esta semana pela positiva o Chelsea, de José Mourinho, o Wolfsburgo, de Vieirinha, e a Juventus. Mas também o antigo internacional polaco Marcin Zewlakow.
[ Veja aqui a edição desta semana do The Corner ]
Antigo jogador do Mouscron, da Bélgica, e do Metz, de França, Zewlakow, de 39 anos, foi desafiado por um programa de televisão polaco a marcar um penálti após rodar sobre si mesmo uma dezena de vezes. O resultado?…. É ver para crer no nosso Blooper da semana.
Se encontrar um vídeo de futebol divertido não hesite em partilhá-lo connosco com a "hashtag" #TheCornerBloopers.