Esqui Alpino: Shiffrin "arrasa" a concorrência no primeiro "slalom" da época
Comentários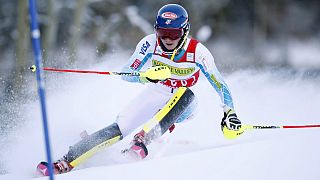 A campeã do mundo de "slalom" estreou-se em grande na primeira etapa da especialidade na Taça do Mundo de esqui alpino. Nas encostas de Aspen, nos Estados Unidos, Mikaela Shiffrin mostrou que não estava para brincadeiras logo na primeira manga.
A norte-americana, de apenas 20 anos, cumpriu a primeira descida em 48,01 segundos. Na segunda, foi mais comedida e fez 51,80. No somatório, Shiffrin fez o suficiente para deixar a concorrência a mais de 3 segundos.
What a SL race at AspenSnowmass</a>: <a href="https://twitter.com/MikaelaShiffrin">MikaelaShiffrin unstoppable with 3.07 lead over Zuzulova and 3.26 over Hansdotter pic.twitter.com/7spo6e4QcM

—

FIS

Alpine (@fisalpine) 28 novembro 2015
Na segunda posição deste "slalom", a confirmar o bom final de temporada conseguido há nove meses com a presença no pódio nas 3 derradeiras provas de "slalom", ficou Veronika Zuzulova. Sem andamento para Shiffrin, a checa, de 31 anos, foi forte o suficiente para deixar a 19 centésimos a vice-campeã do mundo de "slalom", Frida Hansdotter.
Depois do 10.° lugar no "slalom" super gigante de Solden, na Áustria, e do 9.° no "slalom " gigante já em Aspen, na sexta-feira, a sueca conseguiu nesta terceira etapa da Taça do Mundo o primeiro pódio da temporada.
Este domingo, Aspen recebe mais uma etapa de "slalom" a contar para a Taça do Mundo de esqui alpino feminino.
LIVE: Good morning from Lake Louise. It's World Cup race day! https://t.co/5gVRks8iqd#justlakeit#Banffpic.twitter.com/1b52q7ztKD

— LakeLouiseSkiResort (@SkiLouise) 28 novembro 2015