ONU lança-se no combate ao financiamento do grupo Estado Islâmico
Comentários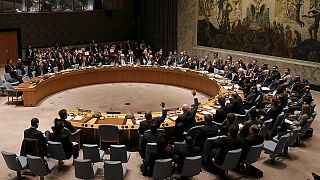 As Nações Unidas adotaram, esta quinta-feira, e por unanimidade, uma resolução que pretende tentar travar o financiamento ao grupo Estado Islâmico, que provém, entre outras coisas, do contrabando de petróleo e antiguidades.
Ban Ki-moon calls for concrete action to shut down funding channels for terrorist groups https://t.co/VdUU3E7vWIpic.twitter.com/M8cXDVReeP

— United Nations (@UN) 17 dezembro 2015
O texto, redigido entre Washington e Moscovo, pede uma ação dos países que fazem parte do Conselho de Segurança da ONU mas também que se punam "mais ativamente" os países que apoiam, financeiramente, o grupo:
"Eles são ágeis e têm sido muito bem-sucedidos na obtenção de recursos para os atos de ódio. Tal como os grupos terroristas, que estão a inovar e a diversificar, a comunidade internacional deve estar à frente para combater a lavagem de dinheiro e o financiamento do terrorismo", afirmou o Secretário-geral da Aliança Atlântica, Ban Ki-moon.
#Daesh sells oil to earn funds. UK air operations target #Daesh occupied oil fields reducing terrorist group's ability to generate income.

— Tobias Ellwood MP (@Tobias_Ellwood) 8 dezembro 2015
São várias as formas de financiamento utilizadas pelo grupo Estado Islâmico, e que preocupam a comunidade internacional, pelo menos os países que não lucram com a situação. Entre elas estão o petróleo e, mais recentemente, a venda de artefactos, fruto de pilhagem e da destruição de lugares históricos, como Palmyra, na Síria.
State #Hermitage gathering materials to help reconstruct #Palmyrahttps://t.co/xIywCjzfarpic.twitter.com/zvVKdy7oyx

—

RBTH

(@russiabeyond) 16 dezembro 2015
See Palmyra's ancient Arch of Triumph before it was destroyed by ISIShttp://t.co/225Scily3npic.twitter.com/CEAp7rjEZM

—

TIME

.com (@TIME) 6 outubro 2015